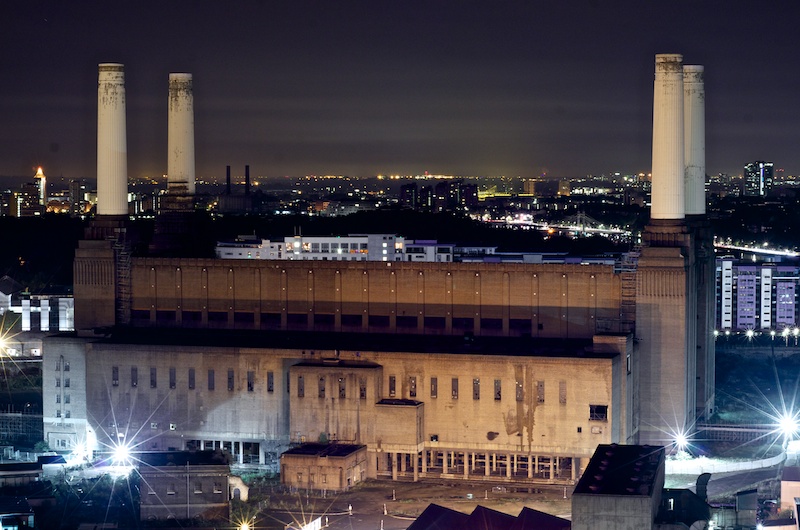 As much as the UK is besotted with Battersea Power Station and its iconic chimneys, it's not very trendy to bestow much love on the old girl amongst our 'community'. A lot of people see it as a played out has-been, a once exciting venue for a nights entertainment which has gone the way of many of the other structures of that 'era' of UK exploration a'la West Park asylum or the Victoria Arches.
I couldn't care less.
There is a pretty special, incomparable vibe to this rusty brick hulk lurched over the south bank of the Thames. It could be its size, its iconic status in UK culture or the fact you could very easily kill yourself just by moving around it, I'm not sure, all I can say is that, weirdly enough, I love it.
..Way back when.. I was out on a mission with Katie and Ollie (who I still owe breakfast) trying to get ourselves the very same chimneys we had in our sights for this latest jaunt.
I remember it taking a very long time (jungle jim of a maze this place), and on reaching the base of the SW chimney, being knocked out by the view (as well as the trick to climbing the thing proper clicking into place).
I'd read accounts of both of Stepping Lightly's accents of these monsters, and if the blurry iso3200 photos were anything to go by, the view at the top looked like something rather special indeed. The nerve to actually man up and plan an ascent took longer than I'd hoped.
It took 10 months before I found my sleep deprived self on the way to West London in the company of BigJobs, Millhouse and Sho. Sporting a car boot laden with more gear than a leading branch of GoOutdoors, we had our plan pretty much set, although the last time any of us had touched the A-Side of Battersea was the year previous.
The first thing to strike us as we hit Nine Elms Lane was that the power station facade was lit up like a Christmas tree, the back yard being full of trucks and tents.. My heart sank. The fk is this??
Frantically checking our phones, we realised that there had been some event on the night previous, and they were on the pack down. While the activity in the yard might have disguised our entry, the flood lights on the chimneys would have certainly scuppered our ascent. Choosing to wait it out and get some kip, we crossed our fingers, hoping the flood lights would be killed and that the event staff would knock off for the night. We were proved right in less than 30 mins, and with that, we went round the corner to a back street to prep our gear.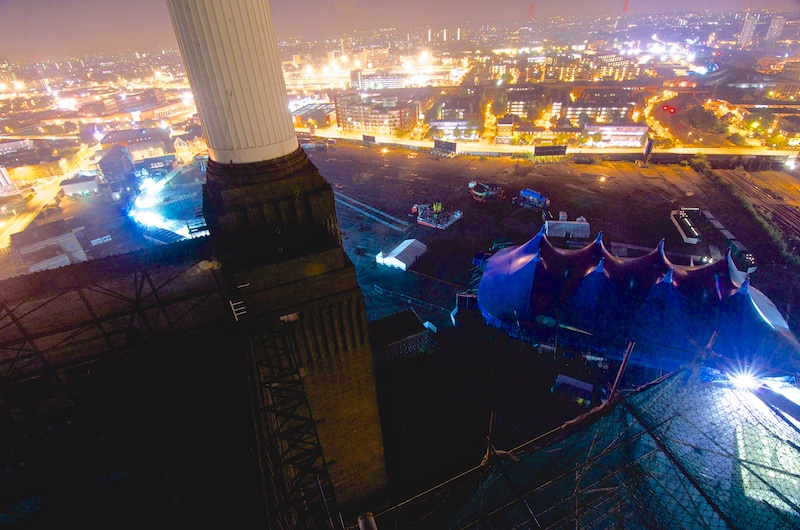 You can see the tents and what-not here.. Looked pretty shit tbh
Anyone who's had a go at A-side in the past will know its basically a level from Tomb Raider. The only way up is lots of free climbing up lots of rusty girders with a death inducing number of feet to the ground on all sides.
It took an age to reach the base of the South West chimney, due to lots of once-good dead ends and new panels, but it was a perfect night for it. There wasn't a cloud in the sky, leaving us plenty of moon light to prep the gear we needed for the ascent. There wasn't much contest as to who was going to lead it. With the very real possibility of some seriously esoteric rigging at the top it had to be Jobs for the job.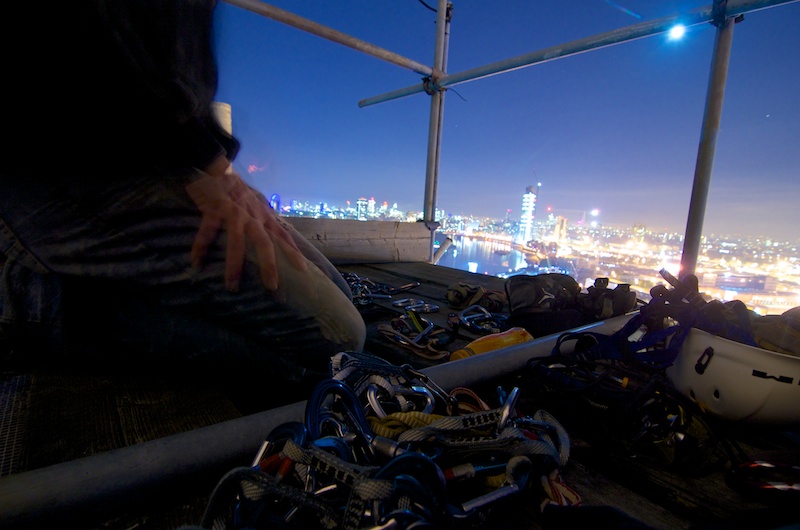 Bidding us farewell, he began his ascent, starting off on a mammoth two hour mission to the top. Slowly and steadily, bolt after bolt.
All was going well, until about 40 mins in when the helicopter came which had the unfortunate characteristic of heading straight for us..
While we all got down and stayed still, there was really nothing we could do but continue. Jobs clocked
it, but just carried on, and eventually the chopper left – steering us away from the fate that befell ds, snappel and sl on their last attempt back in 08.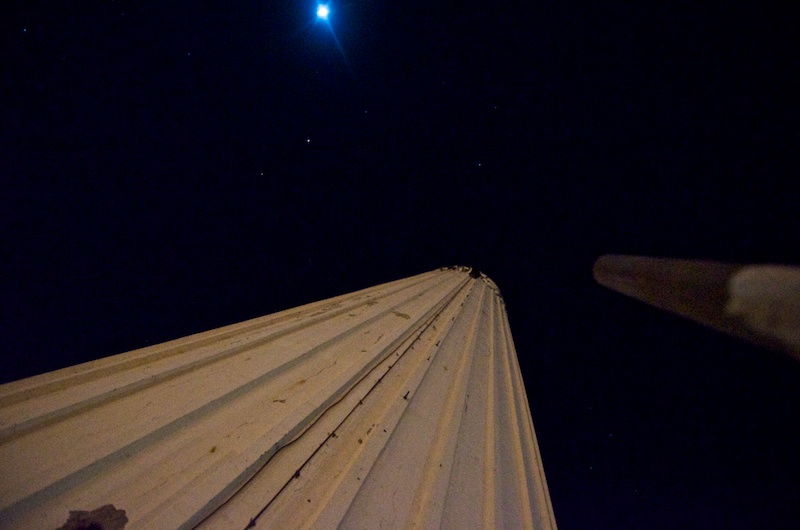 I can tell you now after a 2 hour belay, my neck was knackered by the time he came down, collapsing on the scaff platform next to us, utterly exhausted.
That was it, the hard part was over. Making use of the line jobs has rigged at the top, I clipped in my croll and began my ascent. Not to get too soppy about it, but it was utter magic. Being that high above one of the most iconic buildings in London with a perfect stary cloudless night. Indescribable! There are only a handful of people in he world that have had the privilege to witness London from this angle, and I am now humbled to be among them.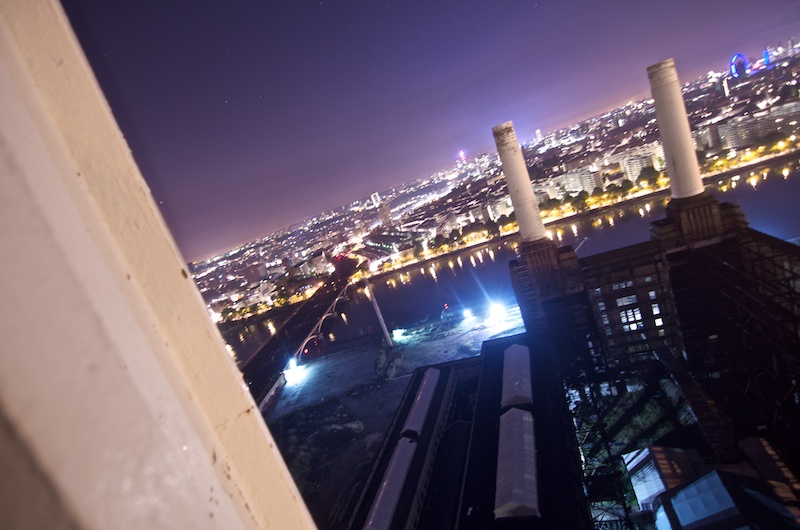 Hopefully these wonky out of focus hand heldss should give you some idea what its like up there, but my guess is, they wont..
The only bit of drama was a security patrol when Sho was 1/2 way up, necessitating a bit of retarded Cirque du Soleil maneuvering to swing himself round the opposite side of the chimney to the guards as they moved round the A Side yard.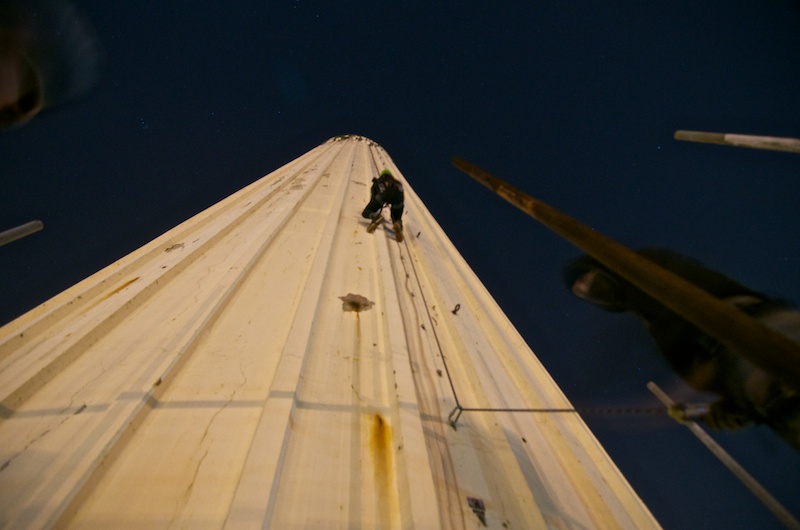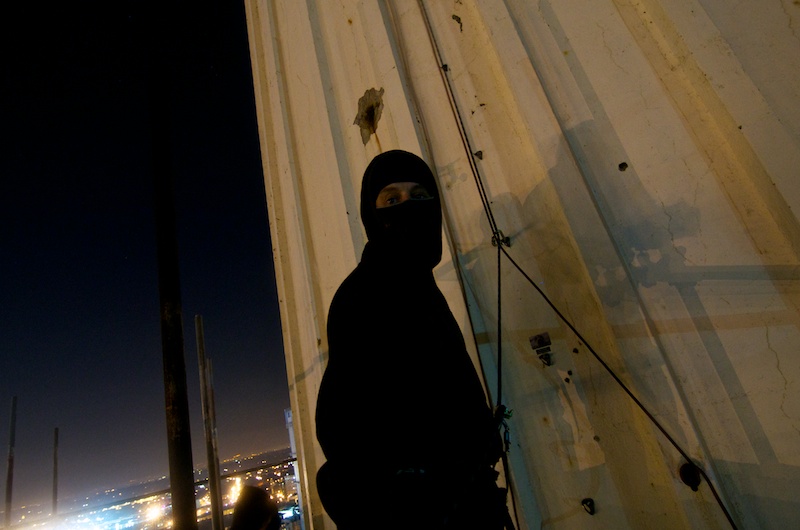 Once everyone was down and safe, we packed down and shot down the scaff.
Exhausted, and descending the way we came, we made our way out without a single hitch just as the sun was coming up.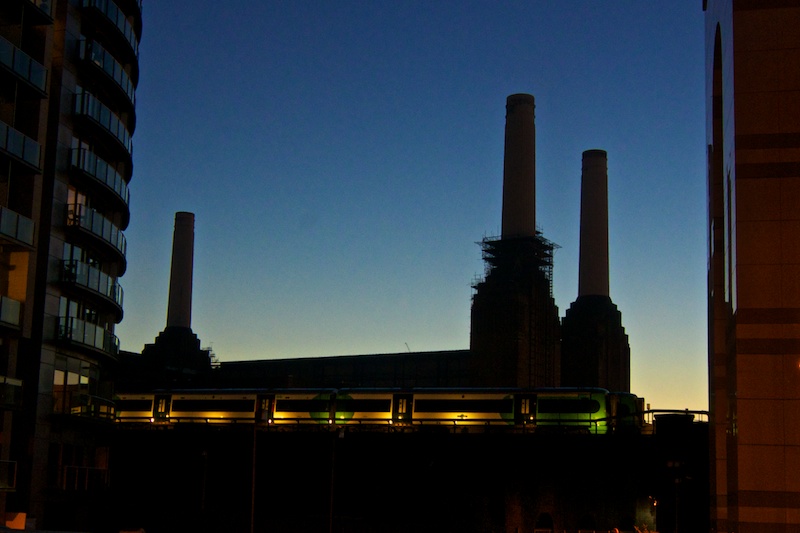 Jaunting down the road, rather full of ourselves, I felt as if I'd just put in a full day at work. Not surprising as we had clocked up nine hours inside Battersea Power Station.
Utter mission.