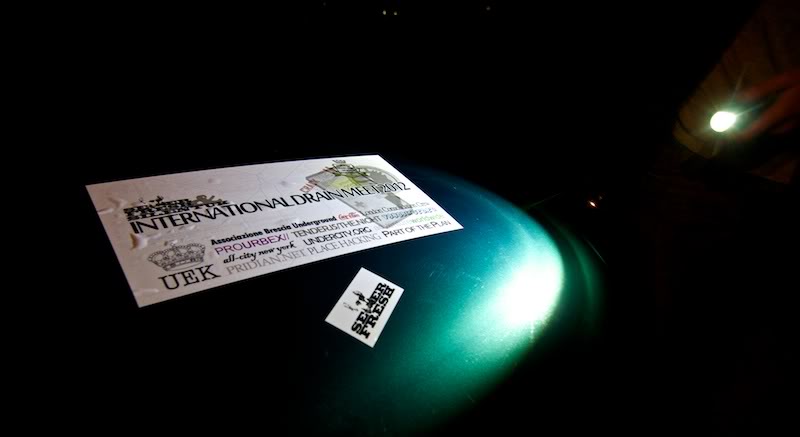 Twatting it down the M20 in convoy and joy riding like utter bastards, myself, a car load of southerners and about 30 others from the UK contingent were firmly on the road, making our way to the annual shit stompers works-do in the historic city of Antwerp. With our massive bumper stickers in place (both on our cars and on a number of unsuspecting  victims) and the addition of a hitchhiker we roro'ed on to the roro ferry and stocked up on cheap ale while a few of our less reputable companions went to do an urb0nz on the bridge.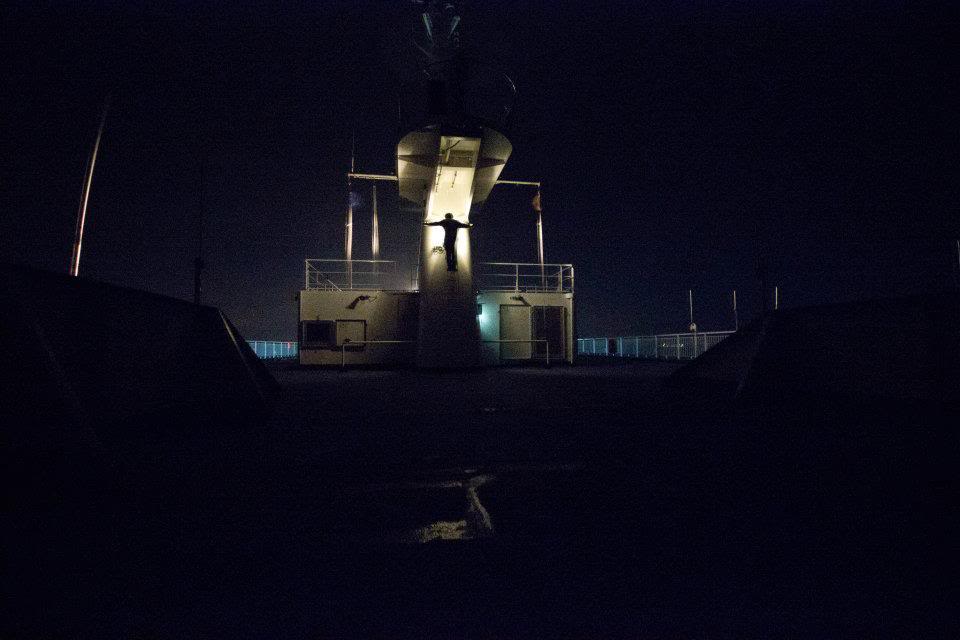 Get down crims! (photo by ollieGT)
Keep in convoy. Don't drive like dickheads.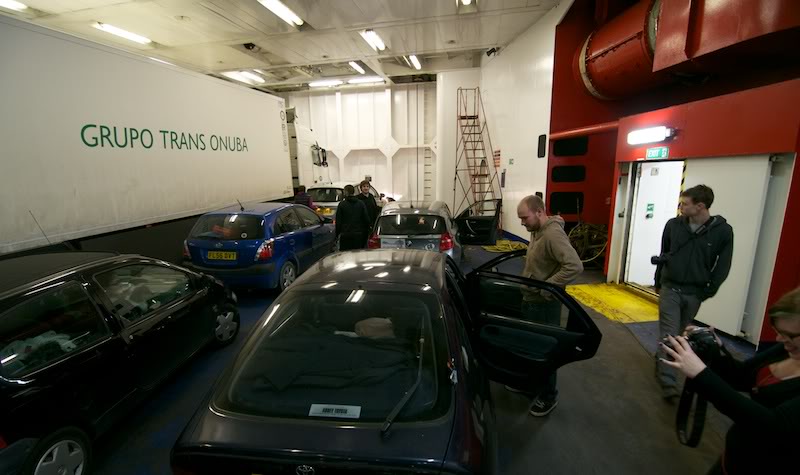 On the snail eating side of the channel, the promise we made to "keep in convoy and not drive like dickheads" had to be quickly abandoned after we almost ran out of petrol, running on fumes and driving away from our party into the French wilderness, on the thin hope that our satnav was taking us to nearest late-night pay-at-the-pump petrol station. We just made it, but had a great deal of catching up to do and did so in pretty decent time, smashing it past the weapons grade beemer at the top of the convoy at 90 just on the inside of the belgian border (it didn't take long for the smugness to be slapped off our faces after the driver – user_scott to internet – of said M3 realised this brazen insult and put our fucked up old ford in its place).
Arriving in Antwerp, we drove to the outskirts of the city looking for a special hole in the floor which, if our intel was correct, was supposed to contain dsankt and his merry band of international trespassers. We found an almost too good to be true place to park right next to the tracks and headed down said hole, tailed by a long line of others and their bags (and tents..??). Our hitch hiking friend was having a beast of a time, much better than his plane ticket wielding mates who he was supposed to meet in Amsterdam the following day.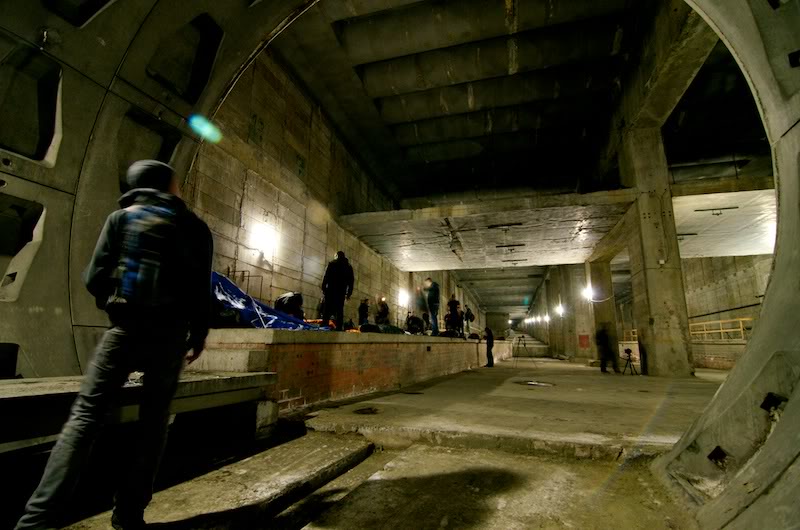 Camp was set, beers was cracked out and introductions were made, and after an hour or so of shooting the subterranean breeze, we set off down the tunnels for a bit of walk.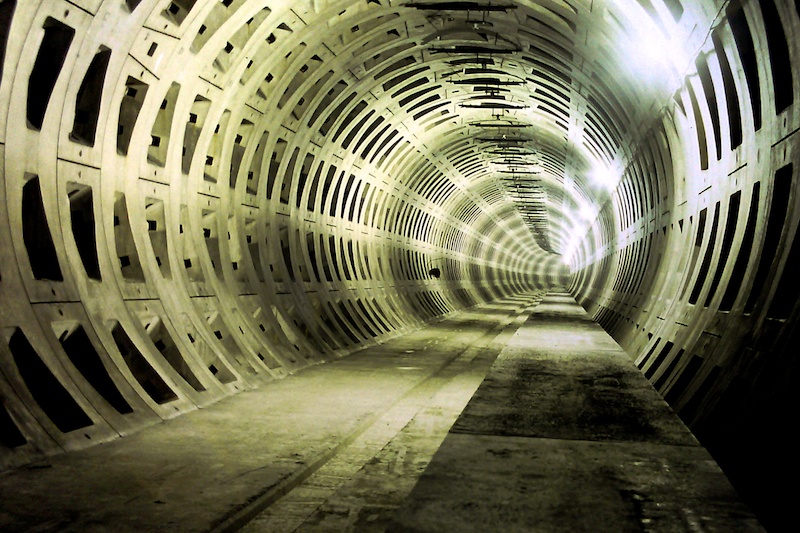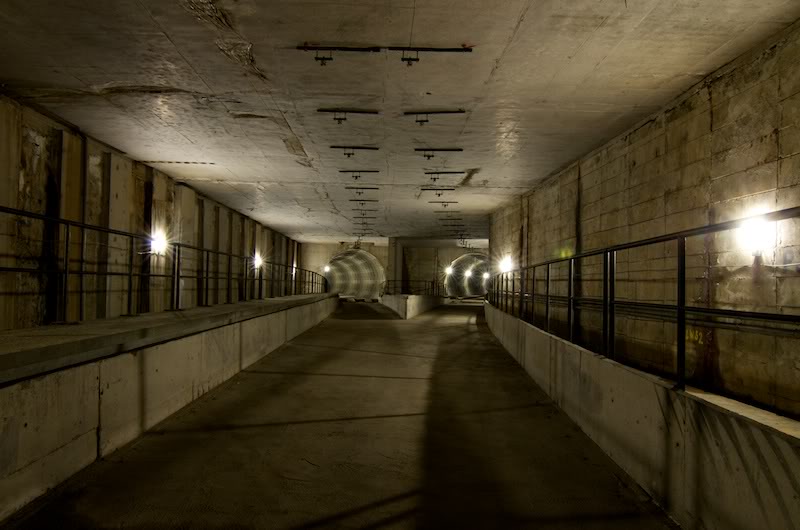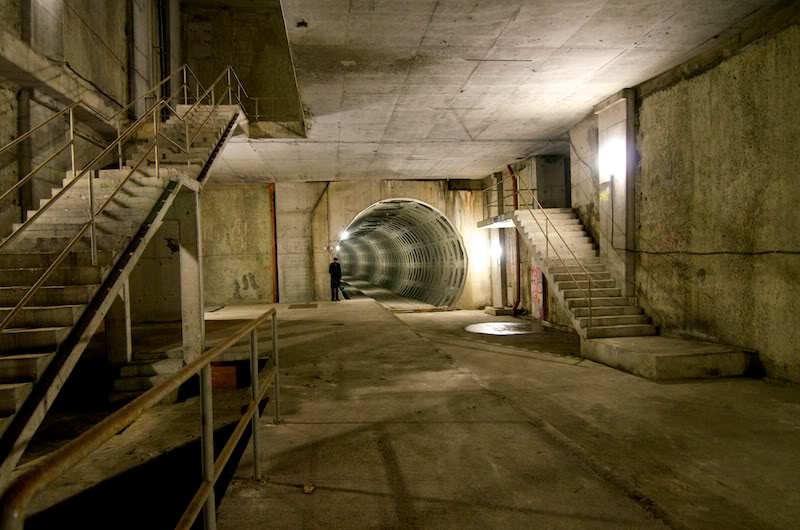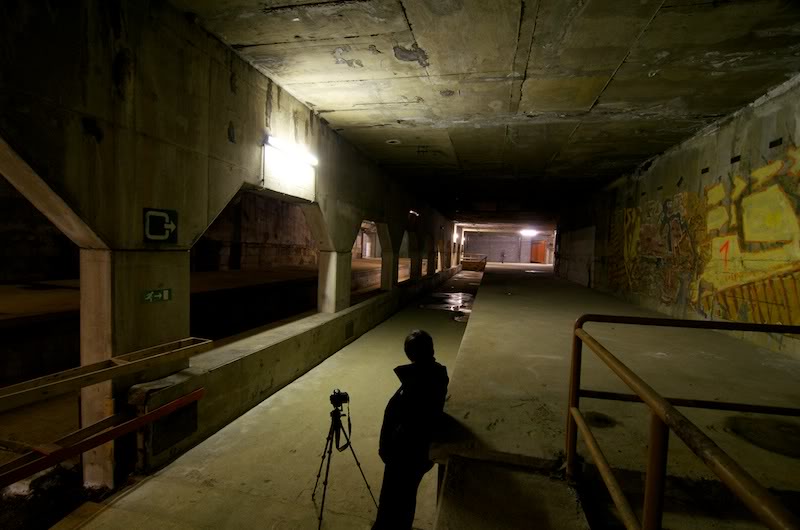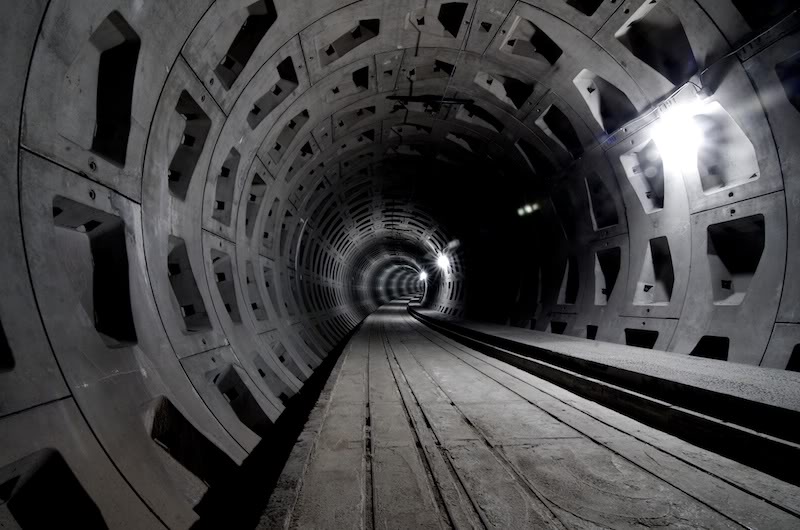 Returning from our end-to-end walk of the metro, we got a bit of kip, collected ourselves and prepared for a mass exit.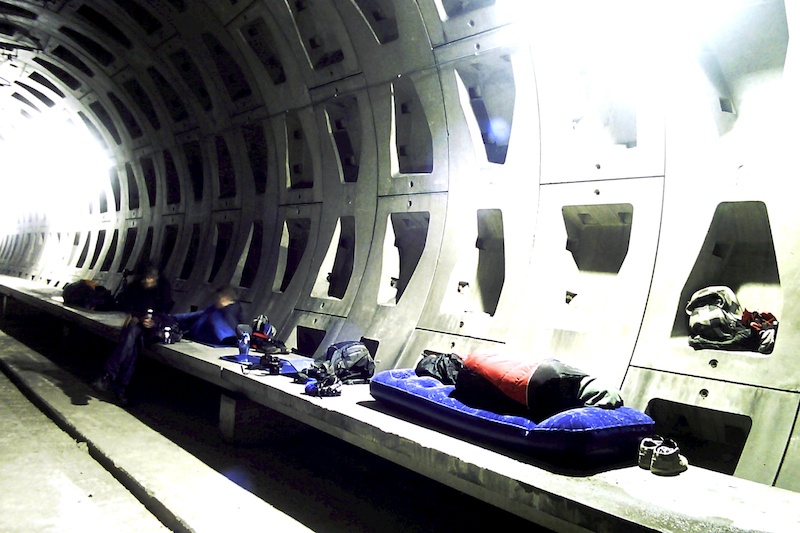 We'd have to be pretty quick at it, as the tracks next to the oh-so-quiet hole we went down last was now surrounded by trackies and the good citizens of Antwerpen going about their daily business. Everyone ready? One.. two..three..go!
I don't know why we even tried to be honest, how are 40 people emerging from a grate at 12 o clock in the afternoon clutching air beds, roll mats and bloody tents going to be anywhere near stealthy? Either way, we needed to make ourselves scarce pretty sharpish, and as soon as the last man in our team had made it out, we casually walked across the tracks to last nights convenient parking spot.
Ah……
We've been fucking towed.
Fucking FUCK.
Three car loads of "Verboten" sign ignoring foreigners had had their vehicles kindly moved to the car pound at the other end of the city. This unforeseen branch in proceedings royally shagarooed our day, which was spent in the back of Urbanitys car (thanks so much for that mate) driving from police station to car pound to police station to car pound..
€180 euros later and we were back on the road, although it was getting dark. In search of something to do, we nipped into town, found a PROPER parking spot and started eyeing up the Chambre Du Commerce, an old colonial building, bizarrely islanded by some shitty shopping mall and its accociated cafes and in the centre of the city. We were just eyeing up a way in, when GE066 perked up, announcing something along the lines of:
"Alright? Already done the hard bit, front doors open if you like".
This man gets everywhere…
And upon entering, we were greeted with this: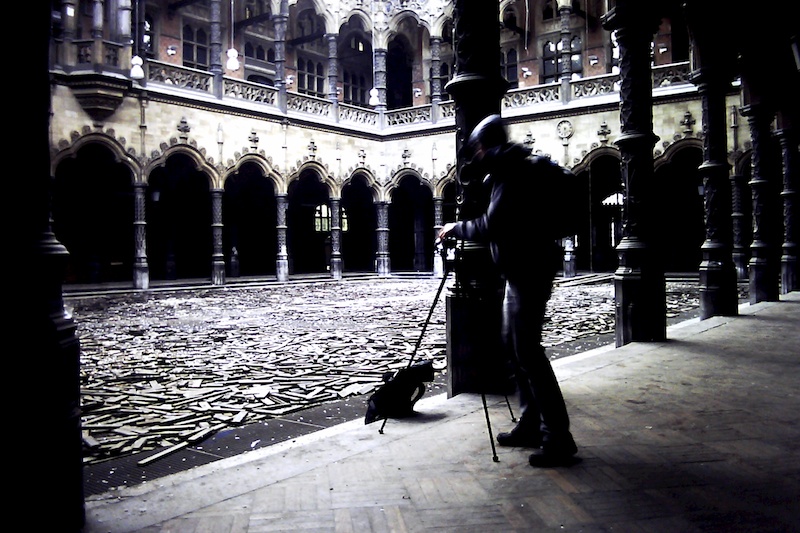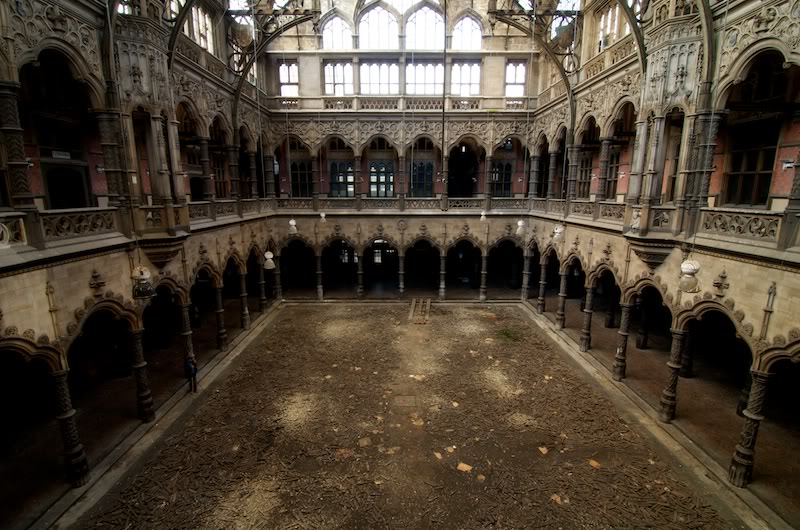 We watched the sunset on the old central hall, had a beer or two then went on a quick walk round the city to see what sort of trouble we could get ourselves into for an after party.
For those in the know, it was gloriously obvious. Antwerp was now full of tux'ed up men in wellies craning their necks bumping into bollards, tourists and parked cars eyeing up the historic buildings and abundance of unsecured tower cranes around the city.
We found a suitable target, and on the back of some free McWiFi we managed to track down our rendezvous pub which by the time we arrived was already crawling with a half ton of drain0rs sporting their finest evening wear and waronz, slurping Belgian ale.
As the last of the revellers poured in, dsankt (in true tour guide fashion) issued a call to arms, and led the rawkus crocodile through the city, to an innocent looking door in quaint cafe-type market square. Piece by piece, said crocodile morphed into sewer-fairing-aligator as one after the other, we disappeared down the drain. It was here that the scaling issues became woefully apparent. If it takes say, 15 seconds for some one to decent a ladder, it takes 15 minutes for 60 people to decend, and that 15 minutes seemed to take forever.
This however, was nothing compared to the next mistake most of the group made, walking around a mile the wrong way down the fecking sewer, only to get to a weird junction, turing around and having to walk all the way back down to our starting point and 5 minutes in the right direction. Personally though, I wasn't that fussed about this little detour. I had managed to hang onto the pint pot I got in the pub which made the detour into a kind of underground beer walk, and we got to see a lot more of the drain this way as well which wasn't so bad. Anyhow – it wasn't long before the woosh of dubstep bass could be heard rumbling though the brick, and before we knew it, we were stood in a large chamber complete with beats, beer and black sludge.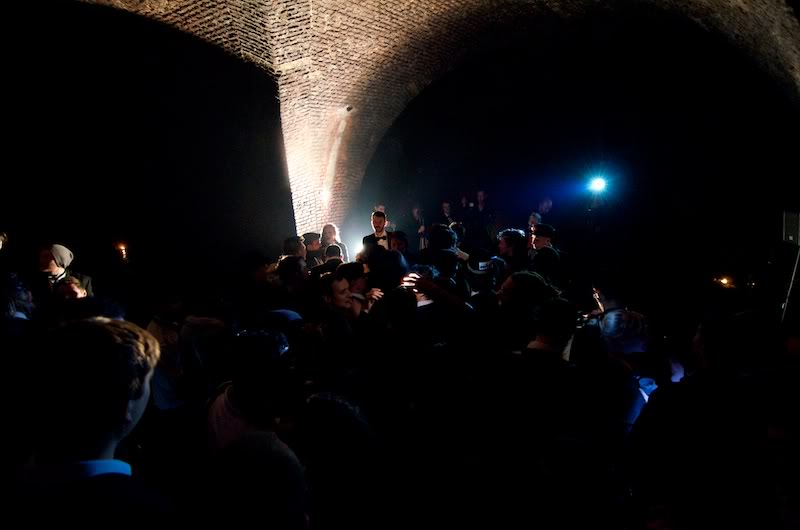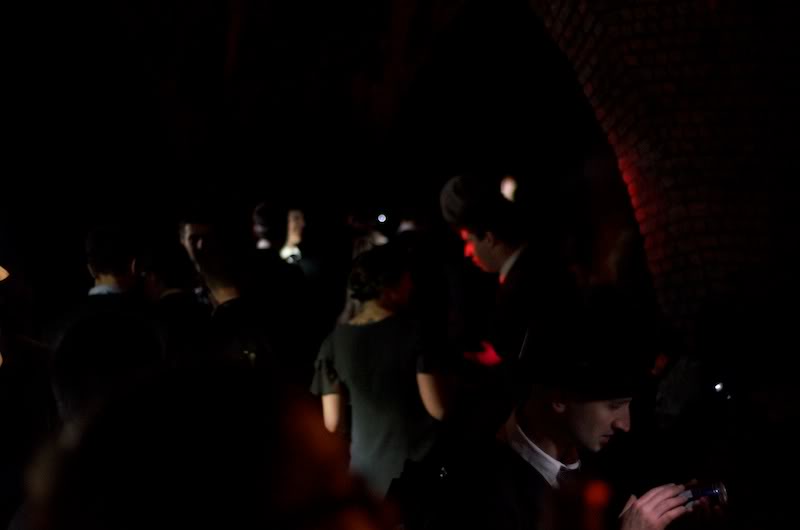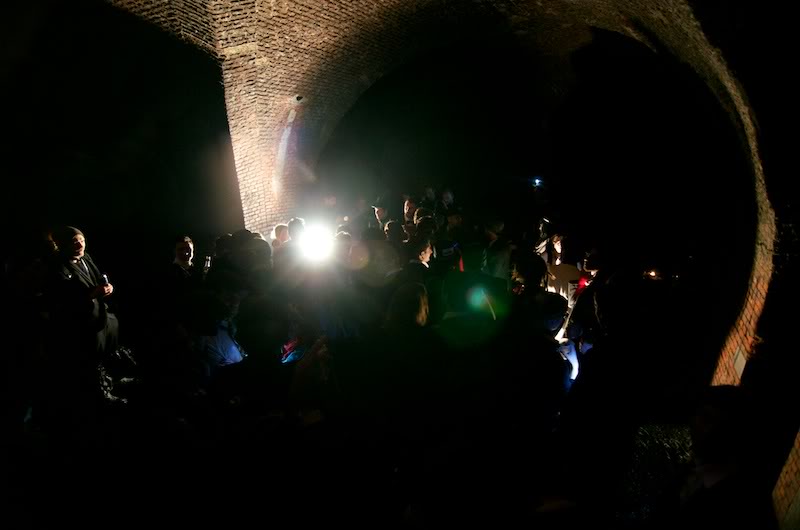 Speeches were made, champagne was gurgled and man mud was fallen into, and by the time the thundering dubstep had made way for the drum', it was about time for us to make tracks and move on our evening's target.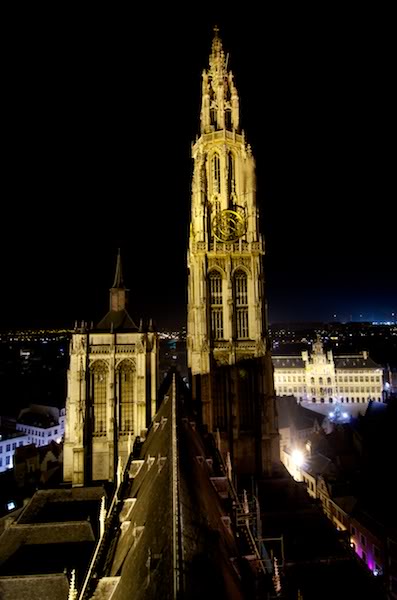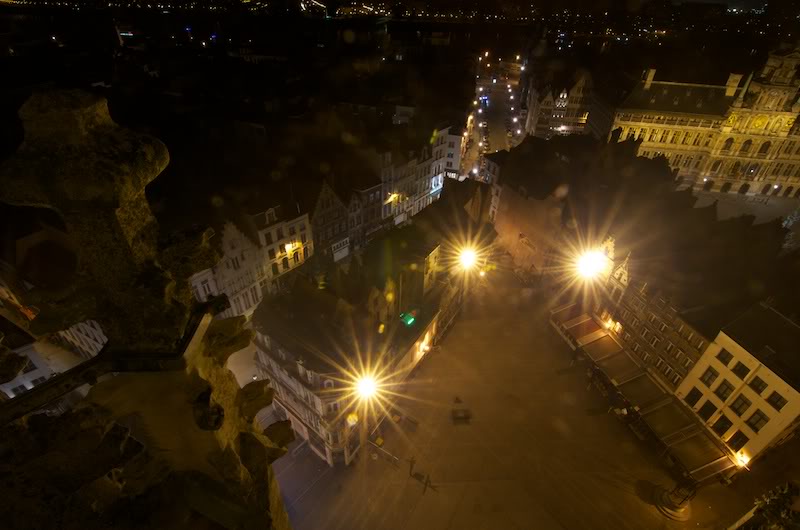 We didn't do too badly to be honest, making it most of the way round the old girl until our visit was rudely interrupted and we had to make a hasty exit.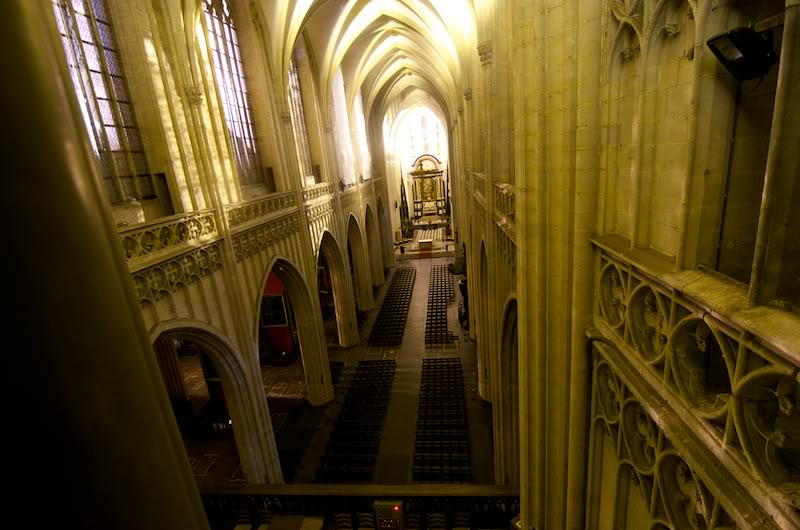 Despite not making the main spire, we were feeling relatively pleased with ourselves and made tracks back to the CDC to bed down, where we met every other sneaky englisher, a substantial contingent of which had just been PIRd off a boat by the harbour and were looking for a place to lay their heads for the night.
We managed to get a generous 4 hours sleep before being awoken by my 9.00 iWakeupcall, and headed out, bumping into a few local derpers who were already at work HDRing the fuck out of the historic meeting hall.
Morning!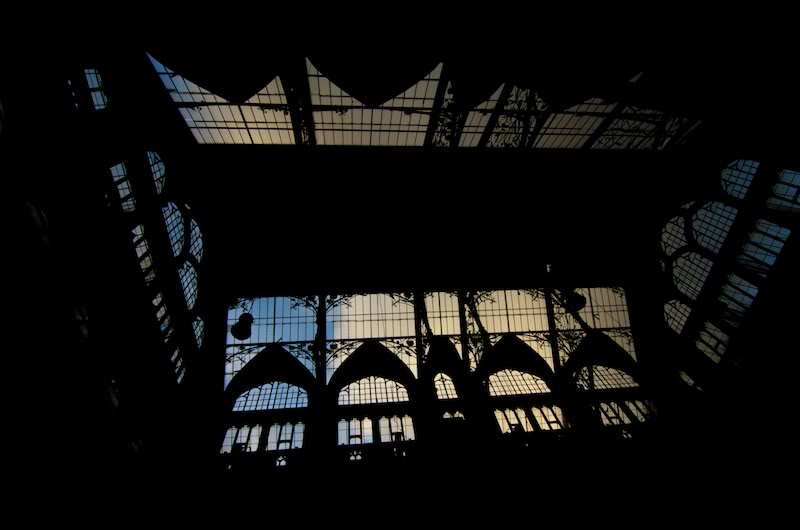 Getting on the road, our final target was a steady 1:50 away down in the industrial south. This particular item had evaded me once before on a previous expedition, and I was pretty keen to have another crack at it. I've got a bit of a soft spot for power stations, and this one looked like a beauty when I receid it with oldskool back in November. On this occasion, we managed to make our way in for a look-see in the middle of the night, and on returning the previous day to gobble up the epic in some proper light, our entrance was thwarted by an army of diggers loading aggregate on to a barge in the ship canal opposite.
It looks like word is out on this one. Security are actually present and doing their best, and we saw at least two other groups of explorers in our time there.

Of particular highlight in this place was the boiler stack (never been inside one of these before) and the pristine turbines, opened up like a crazy heynes manual diagram.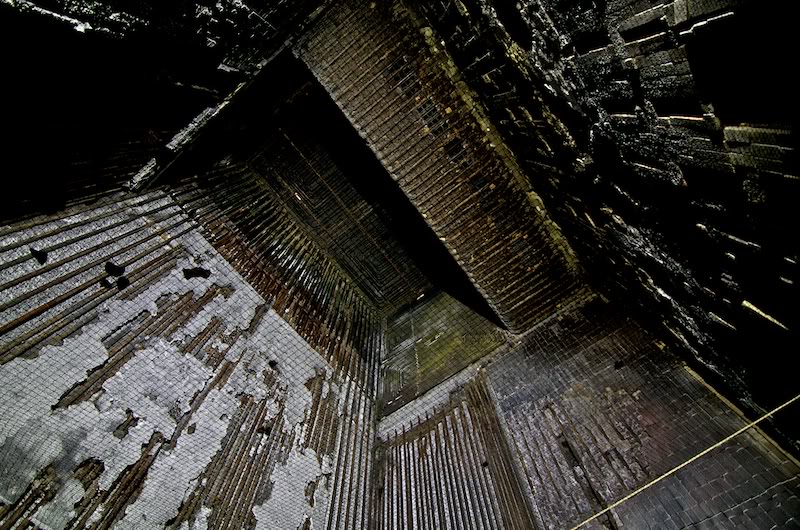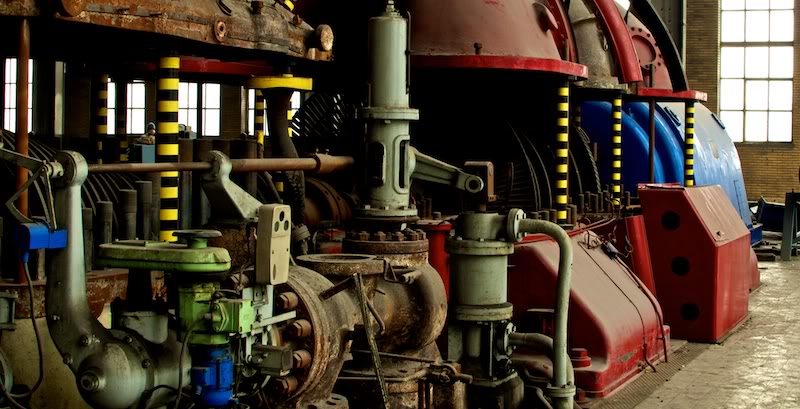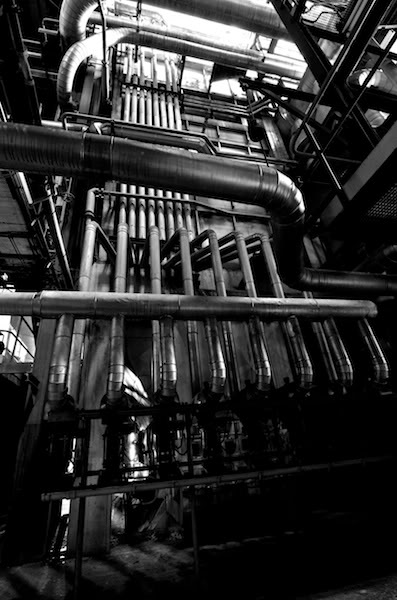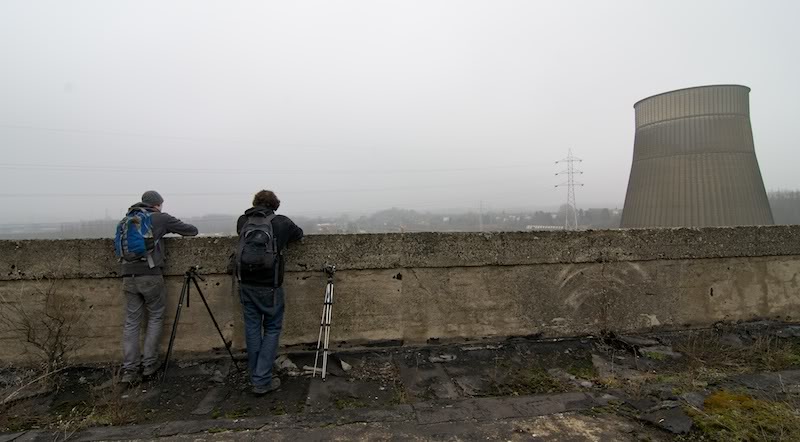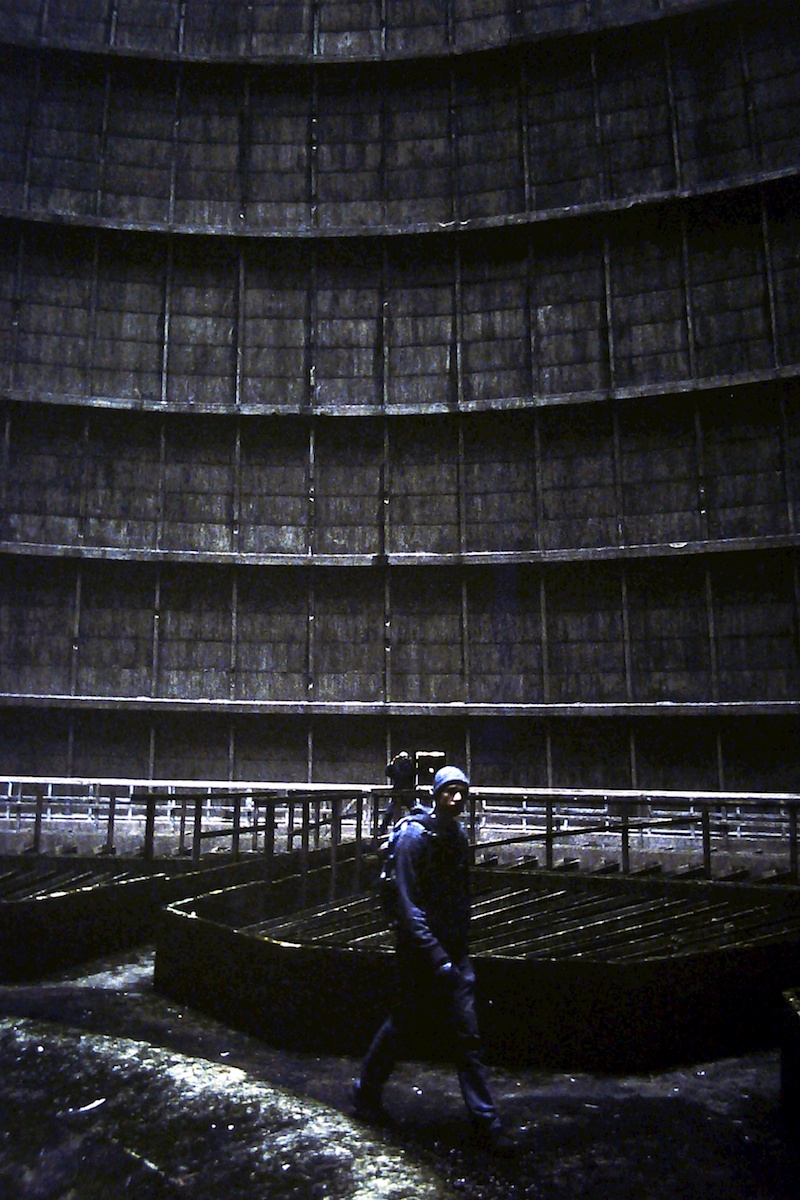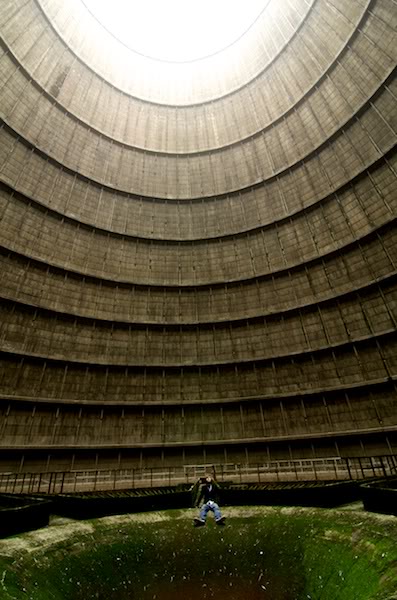 Having a quick look at the cooling tower, we then hit the road, arriving on the ferry home with a cool 60 seconds to spare, still sporting the dinner wear from the night previous.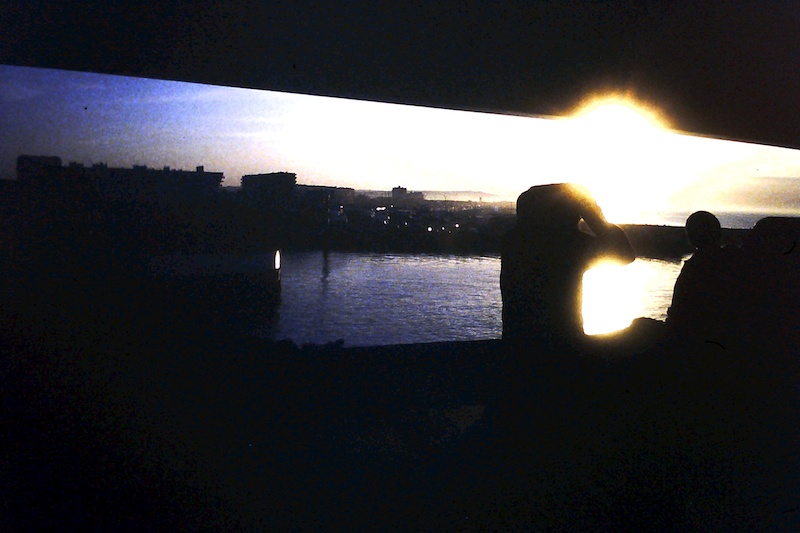 Belting weekend.